PANEL OVERVIEW.  Archaeologists excavating a long-buried physical campus in upstate NY discovered an Office in what they termed a "miraculous" state of preservation.  They were particularly excited by the number of paper artifacts in the room, apparently in their original locations.  The Desk proved to be of especial interest: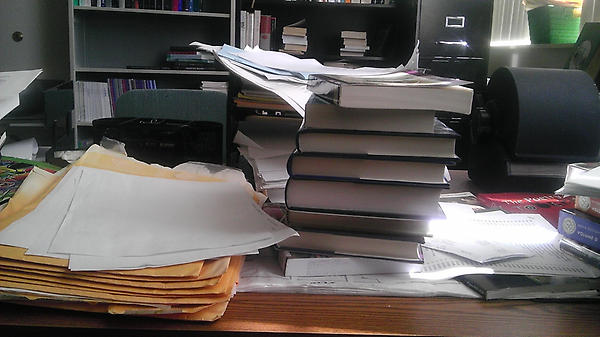 This panel draws on cutting-edge methodology in supramodern materio-textual studies to analyze the possible ramifications of this find for our understanding of academic ritual in the Late Postmodern period (granting, of course, that in recent debates over periodization, scholars have proposed that this era should be called Presupramodern, or perhaps -Postmodern, as opposed to +Postmodern).  The panelists seek to undermine recent arguments that Offices were merely locations in which one could find academics, as opposed to sites of ritual contestation and spiritual identity formation.  We believe that this panel will raise important questions for the further study of Late Postmodern Academic culture as it relates to the production of new literary spatiotemporalities (see J. St. Joking, Thinking in the Box: "Writing" in the Age of Gravity). 
PAPER #1: "Piles upon Piles: Stacking Papers in Late Postmodern Offices" [R. U. Sure, West Moon Crater University]
I argue that Desks were uniquely productive spaces for Academic ritual subject-formation, involving as they did myriad opportunities for the creative disposition of materio-textual goods.  Drawing on the recent theoretical interventions of W. Ayout There (How to Do Things with Material Texts) and Paul Eesestop (The Paper Men), I demonstrate the links between paper arrangement and recently-discovered ritual incantations ("Do the assigned reading!" "Study for the exam!") that hint at the tensions between the liturgical aspects of Academic spiritual life and more spontaneous modes of self-expression.  In particular, I show that we must pay careful attention to this Desk's manipulation of vertical as well as horizontal space, especially the deliberate balancing of high and low stacks. 
PAPER #2: "'I'm so blue': Parsing Bluebook Culture" [Knott Reely, Intergalactic Jupiter University--Eye Branch]
This paper calls into question previous theories about the nature of Bluebooks, which have been found repeatedly in Academic Offices.  According to the Null-Belowzero Hypothesis, first adumbrated in How Blue Was My Valet and Other Academic Mysteries, Bluebooks were ritual offerings from Students to Academics, possibly sacrifices intended to facilitate good luck.  More recently, Goode Idea has argued that Bluebooks were Student intellectual autobiographies, collected by Academics as testimonials to the power of their teaching.  I, however, show that current advances in supramodern materio-textual studies conclusively demonstrate that the "writing" found in Bluebooks was an exercise in spiritual discipline required of Students by all Academics.  By "writing," Students dynamically reconstituted their frequently-oppositional subjectivities in the more complex, yet possibly more hegemonic literary structures associated with Academic thought-production, and therefore elevated themselves to a spiritual plane now commonly associated with Type Three energy beings.  Academics therefore kept such Bluebooks on hand as potent signifiers of Student transcendence. 
PAPER #3: Booking It: A New Theory of Assigned Reading [Lou Minous, graduate student, Halley's University]
Is there any concept so mysterious to the supramodern mind as "assigned reading"? In our post-pedagogical and post-textual era, the function of "assigned reading" seems beyond baffling.  Why would anyone undertake such an activity? What spiritual purpose might it serve? Building on the recent studies of the late O. H. Deere (e.g., Do It Or Else! Why the Ancient Ones Believe in Rules), I use the presence of Books on this Desk to investigate the performative aspects of ritual reading in Late Postmodern Academic culture, emphasizing the transformative potentialities of reading for both Student and Academic practitioners.  Paradoxically, archival research on newly-discovered caches of electronic communications suggests that "assigned reading" may have had its most powerful effect on Academic spiritual development when Students did not do it.  It is my contention that the various testimonials to unread "assigned reading" left by Academics, some of which achieve a remarkable rhetorical force and vitality unequalled in other fields of Academic prose, demonstrate that meditating on this phenomenon led Academics to formulate new modes of Being and, perhaps, Higher Thought.